InfoPlace Document Organizer


The web promises the benefits of affordable document sharing and knowledge management. However, the hurdles of initial cost, ongoing administrative overhead, and training time prevent most Small-to-Medium businesses from taking advantage of these productivity benefits.

The solution is InfoPlace Document Organizer -- web-based document and knowledge management that is affordable, easy-to-use, and works out-of-the-box.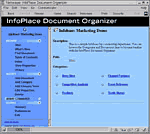 Version 2.0 has just been released with support for mixing of Categories and Documents, Locking and much more! Read the Release Notes to see all the new features that have been implemented.
Document Organizer Upgrade


The version of the InfoPlace Document Organizer bundled on the Sun/Cobalt Qube 2, the Gateway Microserver and the NetWinder gives all users "Modify" access to all Infobases. Two upgrades are available to enhance this functionality.

One upgrade provides full user management and allows you to control access to each Infobase. You can specify users for each Infobase. Users can be assigned three levels of access - Browse, Modify and Administrator. A second upgrade allows you to set access levels for Qube/Microserver/NetWinder users. All users will still have access to all Infobases.

These upgrades are available for a nominal license fee. Contact InfoPlace to order an upgrade. Please register your installation to get notified about upgrades and bug fixes.
Product News


"... provides sophisticated document indexing and categorization and a powerful search engine one typically expects from enterprise class Intranet servers."
-Internet @ppliance Industry Report

"Pretty cool".
-32bitsOnline.com Product Review

"The InfoPlace document organizer has all the tools necessary to create a new portal that your users can either have for themselves or share with others. Users can directly create the portal themselves ... This added value really measures up when you consider the amount that purchasing a separate portal-development tool and server costs."


-LinuxWorld Product Review
InfoPlace was an exhibitor at LinuxWorld Expo and drew strong response from VARs and OEMs.



InfoPlace Document Organizer was bundled with Cobalt's Qube 2 server appliance . Read the original press release. Cobalt Networks was later acquired by Sun Microsystems.



InfoPlace Document Organizer was bundled with the NetWinder Office Server from Rebel.com. The NetWinder was initially developed by Corel Computer which was acquired by Rebel.com.

Be an InfoPlace Partner


VARs and OEMs are leveraging InfoPlace Document Organizer by incorporating its easy-to-use capabilities into server appliances, intranet-in-a-box application suites, and business applications.
We are looking for partners in the ASP/ISP space. Contact us for more information.